Back To All Properties
233 & 266 MALCOLM X BOULEVARD
Bedford-Stuyvesant, Brooklyn, NY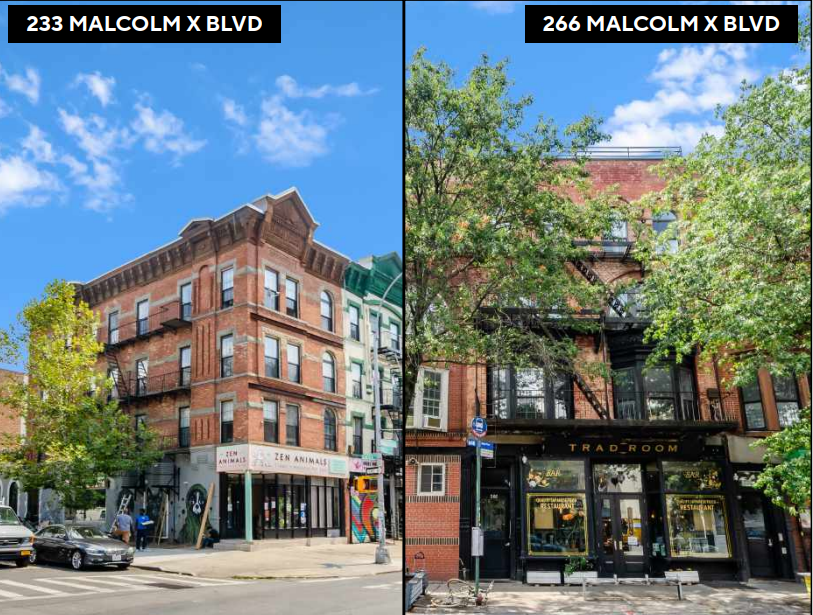 Property Description
Investment Property Realty Group (IPRG) has been exclusively retained to sell 233 & 266 Malcolm X Boulevard, located on the Corner of Malcolm X Blvd & Halsey Street. This new construction, fully renovated mixed-use property offers 18 free market units and 2 commercial spaces. 233 Malcolm X is built 22 ft x 65 ft, offering approximately 5,720 square feet. 266 Malcolm X is built 26.33 ft x 60 ft, offering approximately 6,320 square feet. The lot is built 22 ft x 80 ft for 233 Malcolm X and 26.33 ft x 80 ft for 266 Malcolm X.
The property is located within walking distance to the A & C subway line. Bed-Stuyvesant is revered for its historic architecture, with an array of diverse eateries, cafes, and bodegas. These properties are near an array of strong retail along Malcolm X Blvd and walking distance to Fulton Park, St. Johns Park, and Herbert Von King Park.
Both buildings were completely substantially rehabilitated, gutted down to the studs and redone from scratch. These properties offer optimal and desirable layouts with tremendous market demand. Ownership has not had one day of vacancy at these properties since the lease was up in 2016.
The Properties can be purchased separately.
$5.40M – 233 Malcolm X Boulevard
$5.60M – 266 Malcolm X Boulevard
Block & Lot:

01662-0010 01666-004

Neighborhood:

Bedford-Stuyvesant

Cross Streets:

Malcolm X & Halsey

Building Dimensions:

26.33 ft x 60 ft

Lot Dimensions:

26.33 ft x 80 ft

Units:

20

Total Approx. SF:

12,040

Zoning:

R6A, C2-4