Back To All Properties
26 4TH PLACE
Carroll Gardens, Brooklyn, NY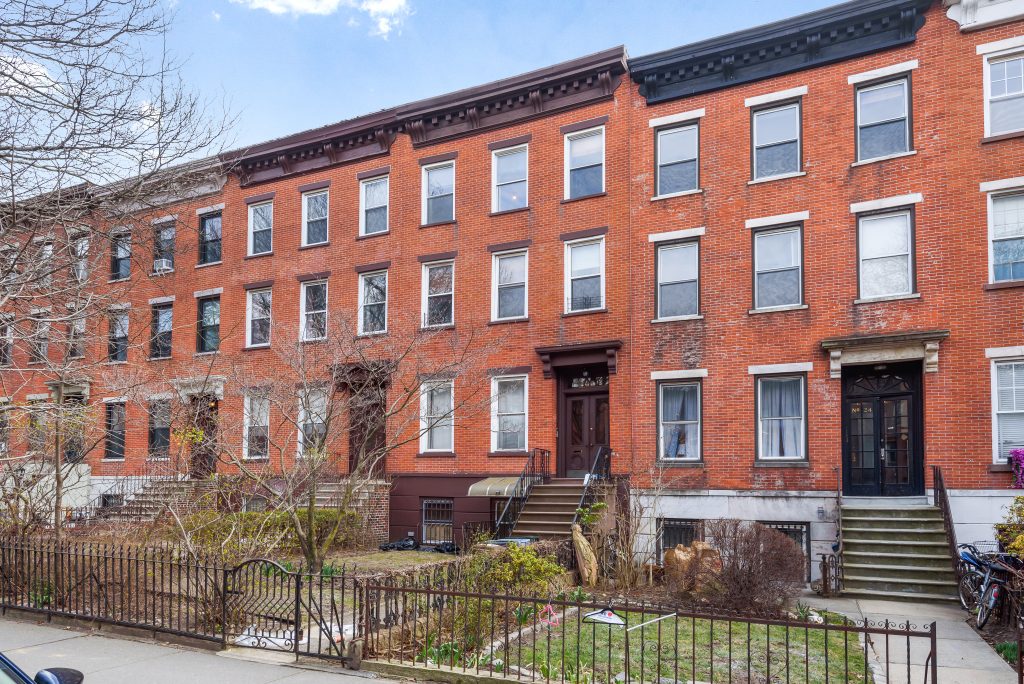 Property Description
Introducing 26 4th Place, which is a four-story townhouse located on a lovely quiet tree-lined block between Henry Street and Clinton Street in Carroll Gardens. The building will be delivered vacant.
This gorgeous 21 feet wide, brick, four story townhouse is built 43 feet deep on all 4 stories and sits on a 100-foot lot. With 3,612 square feet of interior space, this is the perfect opportunity to create your dream home, convert to condos, or renovate a well-maintained property for rental income. The property features a full cellar with a ceiling height of 6 feet, 6 inches. There are lovely original details throughout should the new owner choose to restore including original millwork and fixtures.
The 30-foot-long front yard and 58-foot-long rear yard has plenty of space to plant and customize. The building has recently been waterproofed and repointed, and is currently configured as 4 apartments:
Garden Floor – 1 bedroom, 1 bath with backyard access. Ceiling height is 7 feet, 8 inches.
Parlor Floor – 1 bedroom, 1 bath. Ceiling height is 11 feet, 1 inch.
3rd Floor – 1 bedroom, an office, and 1 bath. Ceiling height is 11 feet, 4 inches.
4th Floor – 1 bedroom, an office, and 1 bath. Ceiling height is 10 feet, 2 inches.
The building is in the highly sought after 2A protected tax class, with annual taxes at $8,235.
With R6B zoning in a non-landmarked area, the property features approximately 588 square feet of additional air rights which can be utilized for redevelopment.
Located on one of the most beautiful brownstone blocks in Carroll Gardens, this townhouse is an 8-minute walk to the Carroll Street subway stop, which services the F and G subway lines providing quick access to Manhattan and throughout Brooklyn. Steps away is great shopping on Court Street and Smith Street, as well as beautiful outdoor spaces such Carroll Park and DiMattina Playground.
This townhouse is a true gem and the perfect opportunity to re-develop as your dream home or next investment property.
Block & Lot:

00373-0020

Neighborhood:

Carroll Gardens

Cross Streets:

Clinton & Henry St

Building Dimensions:

21 ft x 43 ft

Lot Dimensions:

21 ft x 100 ft

Units:

4

Total Approx. SF:

3,612

Zoning:

R6B

FAR:

2.0

Tax Class:

2A
Featured Listings
$ 5,500,000

Crown Heights North, Brooklyn, NY

$ 3,500,000

$ 2,350,000

$ 7,250,000

Williamsburg, Brooklyn, NY

$ 2,200,000

East New York, Brooklyn, NY

$ 1,995,000

$ 1,475,000

East Flatbush, Brooklyn, NY

$ 1,400,000

$ 1,350,000

Brownsville, Brooklyn, NY

$ 1,195,000

Bedford-Stuyvesant, Brooklyn, New York

$ 0

Bay Ridge, Brooklyn, New York

$ 0